You ever been to one of those hibachi spots. Where they cook the food in front of you?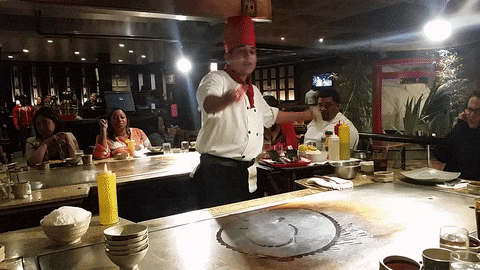 If you haven't you missin out. You gotta do that before you permanently leave your body.
Anyways. The reason I mentioned that is because whenever you go there they always give you a choice of sauces you can put on your dish. Usually a ginger sauce, some other sauce, and then of course that other one.
We're gonna be talkin bout "that other one."
Me personally I don't eat out a ton so I may be a bit off on this but who cares…we're allowed to make mistakes in life.
So I've seen it called Yum Yum sauce and other times called Bang Bang sauce. I can't say if they're one and the same or have slight differences. But…that sauce is HITTIN.
Y'all know me time and time again, sauces are always key to me and the right sauce will always level up a dish.
So in this recipe, the dish alone is great. I never seen the idea of frying broccoli and it came out solid. I like crunchy things so the panko worked perfectly in providing that right texture. But trust…the sauce.
The sauce.
Recipe
Ingredients
Sauce
1/4 cup veganaise
2 tablespoons chili paste
1 tablespoon agave
Batter
1 cup almond milk
1 teaspoon vinegar
3/4 cup of flour
1/2 cup of cornstarch or arrowroot powder
1 teaspoon salt
2 teaspoons sriracha
Rest of ingredients
2 cups panko bread crumbs
1 head of broccoli
Peanut oil (or oil of choice)
Scallions
1 cup of quinoa
1-2 bell peppers
1 can of coconut milk
1-2 tablespoons coconut aminos
Red pepper flakes*
Pepper*
Instructions
If quinoa is not already cooked, cook quinoa for 25-30 minutes until fluffy then drain excess water if any is left.
While quinoa is cooking, add the vinegar to the almond milk and let sit for a few minutes.
Add the dry ingredients together (flour, cornstarch/arrowroot, salt). Then add the vinegar and almond milk mixture and sriracha to the dry ingredients and mix together.
Add the panko crumbs to a separate bowl.
Chop the bell peppers. When quinoa is finished transfer to a skillet and add either half or the whole can of coconut milk, coconut aminos, and chopped bell peppers. Let simmer for about 15-20 minutes on low to medium heat. Want the mixture to get thick.
Add the oil to a frying pan until it's about 1 1/2 inches deep and then heat it up. While the pan is getting hot chop the broccoli into florets.
Dip the florets into the batter and then cover in panko crumbs and add to the frying pan.
Let the broccoli brown in the pan for a minute or two.
Once finished with the desired amount of broccoli, let it drain on a plate lined with a paper towel.
Combine the veganaise, agave, and chili paste, along with salt and pepper and mix together.
When the quinoa mixture has become thick add to a bowl, and then place the florets on top. Drizzle with the sauce and add scallions, red pepper flakes, and pepper to top.
Eat that shxt!
This recipe was adapted from here.